Kodak Black says he never got stomped out.
The Dying To Live rapper went viral this week when a video clip surfaced online showing him doing a stage dive which went horribly wrong. The clip below shows a part of what went down, but what took placed after the stage dive is up for your interpretation. Some folks are saying that Kodak Black got stomped out in the crowd by some of T.I.'s fans. The rapper is now denying the rumors saying that he never got stomped.
"[No one jumped me,] let alone stomped me out," Kodak told his followers on Instagram Live. "Man, you better off amputating both your legs if you kick me, let alone stomp me! How you gon' do that? Then what happened?"
Kodak Black made a lot of enemies recently when he made some distasteful comments about Nipsey Hussle's girlfriend, Lauren London. The Game and T.I. are two of the rappers who came out strongly against the Florida MC. Some folks are now saying it was some fans of T.I. who stomped him out in the crowd.
Aside from a public backlash for disrespecting Lauren London, Kodak Black is getting ready to go on trial for a sexual misconduct case that could potentially send him to prison for a very long time if he is convicted.
Watch Vybz Kartel, Afro B & Dre Skull "Shape Nice" Video
Vybz Kartel, Afro B, and Dre Skull drops the visual for their single "Shape Nice."
The track was produced by Mixpak Records who produced several hits for Vybz Kartel and Popcaan. The video features plenty ladies showing off their dance moves in the streets of Kingston while Kartel and Afro B spits the lyrics.
"Yuh got the black girl booty / Bubble like the brewery / Love is not a crime tell the jury / Whine for the fame for the money for the jewelry / Every man a watch yo how yuh do it / Bend yuh back now settle pon the block now," Kartel deejay.
Watch "Shape Nice" music video below.
Shenseea and Tyga Drops New Track and Visual "Blessed"
Shenseea and Tyga come through with a new dancehall/hip-hop crossover track "Blessed."
Last weekend, Shenseea went viral on social media when she posted two photos of herself and another woman in bed. Urban Islandz reported that the stills were from her upcoming music video "Blessed" featuring Tyga. The Arrad-directed cut was shot in Montego Bay recently when Tyga flew down to the Second City for a quick work vacation. The track was produced by Rvssian and released under Rich Immigrants and Interscope Records.
The cut kicks off with a breathtaking view of everyday life in the resort city with Rastafarians on the beach, fishermen coming in from sea with their catch and Shenseea waking up in bed in the morning with her smoking hot female friend beside her.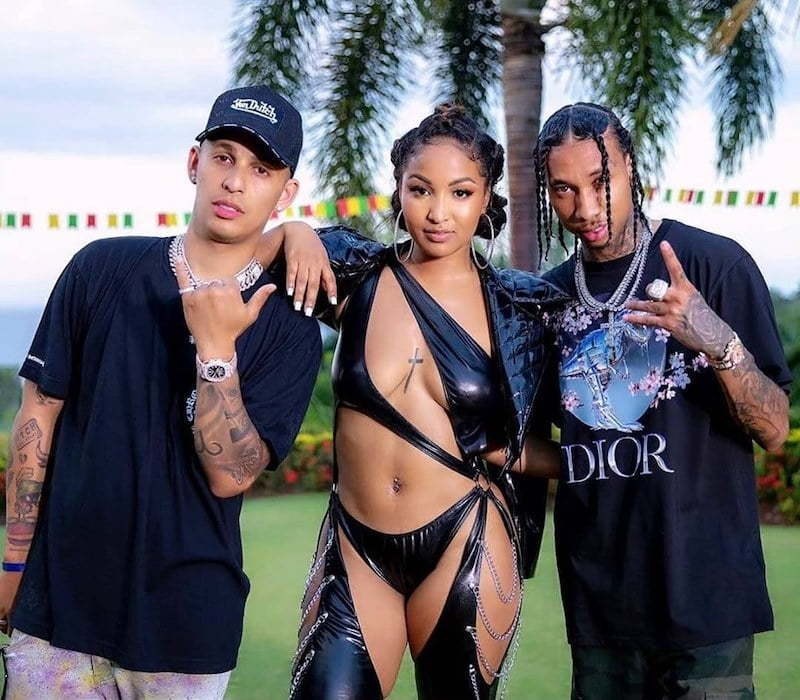 "First thing in the morning when I wake up / Thank god for life / Look in the mirror say b*tch am the best best best best best best best best," Shenseea sings.
"Blessed" marks the first time that Shenseea and Tyga are collaborating on a track and already it's a huge hit among dancehall and hip hop fans. Watch the video below.
Spice Explodes On Akbar V For Mocking Jamaican Accent: Love & Hip Hop Atlanta
Spice exploded and attacked her Love and Hip Hop: Atlanta co-star Akbar V for mocking her Jamaican accent.
Last season we saw the dancehall diva getting into it with other co-stars like Tokyo Vanity and this season, there is more drama. On episode 9 of this season, Spice and Akbar V got into it forcing security to separate the two women. Unlike last season when she received some backlash for fat shaming Tokyo Vanity, Spice is getting a lot of support from her fans for putting the paws on Akbar V for mocking her Jamaican accent and calling her a "b**ch."
"Don't you dare try to downplay my culture a wha she hear bout?!" Spice tweeted. She also shared the video clip on Instagram where she wrote, "Rule #1 Don't ever try to mock my Jamaican accent, and Don't call me b***h. #petpeeve. Respect my country Period."
Don't you dare try to downplay my culture ?? a wha she hear bout?! pic.twitter.com/e51YyKkuz7

— Grace Hamilton (@spiceofficial) May 21, 2019
Spice is getting a lot of support from dancehall fans and Jamaicans who thinks that Akbar V was out of line for mocking her accent. Some folks also suggested that Spice shouldn't taint her brand for someone who is considered a lower tier celebrity.
"Spice me like how you defend we thing, the blood*** gyal bright and out of order but she is not even worth tainting your brand for them waste gyal deh," one fan wrote. Another fan added, "She want it to get slap for real.Her ass was being so disrespectful with no life. Instead of attacking people like that should be getting her life together and take care of her kids but no she's mimicking Spice who comes from Jamaica and doing wayyyy better than her. F*** her."
Caption this fimmi ??? @loveandhiphop #LHHATL pic.twitter.com/yjJwc0Fj3N

— Grace Hamilton (@spiceofficial) May 16, 2019