50 Cent says he will sue Teairra Mari if she doesn't stop profiting off "I Ain't Got It" slogan.
Last weekend, Teairra Mari released a 50 Cent diss track "I Ain't Got It" where she ripped the rapper for harassing her on social media for $30,000. The next day she wrote a post on IG taking credit for ending 50 Cent's career. It turns out that the G-Unit rapper was quietly working behind the scenes to nail her. On Friday, he announced that he beat her to trademark "I ain't Got It" and even purchase the domain name and launch a website.
Teairra Mari had been selling merchandise using the phrase, and if Fifty manages to get the trademark, it means that will cripple her business venture. "Somebody forgot to trademark this, so I'll just take it, you little ***, get the strap," the rapper/actor wrote. "Look if she don't take hers down, I'm gonna sue her, LOL."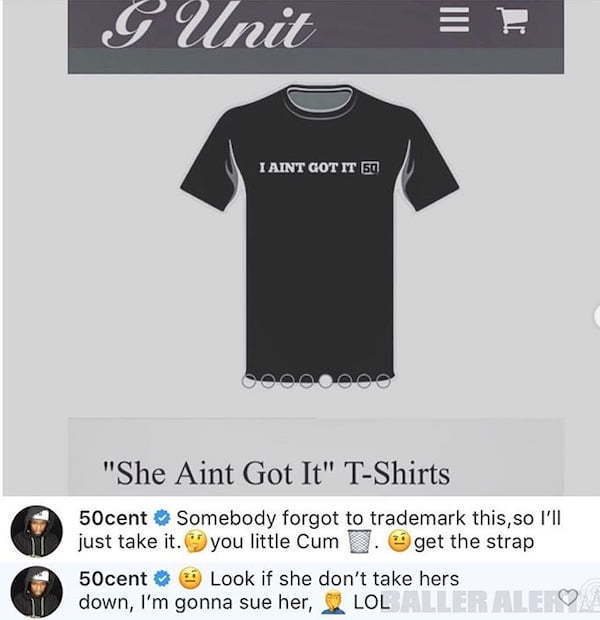 50 Cent and Teairra have been going back-and-forth on social media, and once again the rapper proves that he has the upper hand in their relentless battle. At this point, the two should make a movie out of this. Fifty already got T-Shirts and phone cases up on the website for sale, and Teairra Mari got all kinds of merch on her site selling, so one of them will have to bend.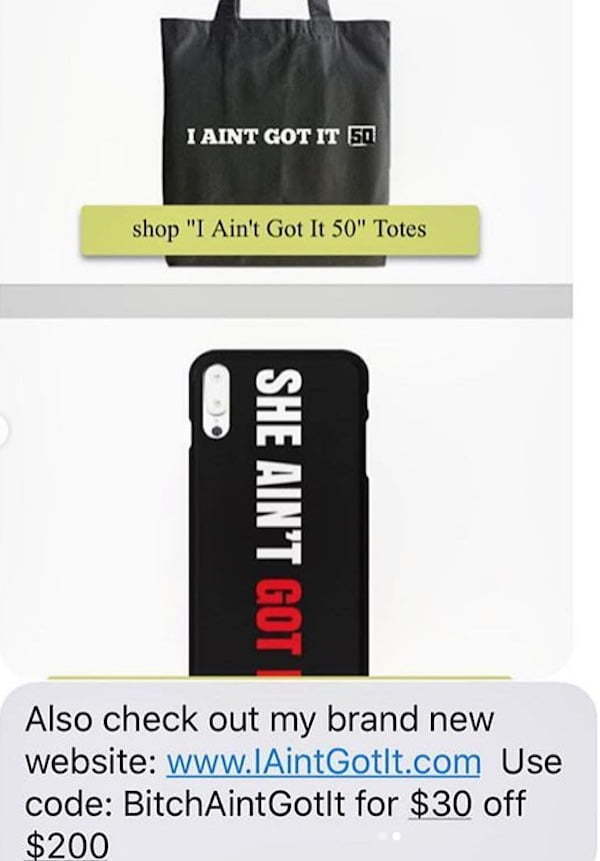 50 Cent is clearly winning this battle, but you have to commend Teairra for going toe-to-toe with Fif since this is his playground.
Rapper Future's Bodyguard Gets Knocked Out The Airport In UK
Future's bodyguard got knocked out cold while walking outside the airport in the UK.
A video clip has since gone viral showing a man snuck up behind another man walking in the streets and punched him in his face knocking him to the ground. The man who was videoing the footage was yelling, "that's Future's bodyguard." Of course, the Atlanta rapper has not confirmed or denied the story that the knocked out man is his bodyguard. Nevertheless, this appears to be a brutal, unprovoked attack on someone who was just being about his business.
Law enforcement officials appear to be quick on the scene while some females helped him up on the pavement. Future was seen walking back towards the airport building after the attack took place.
There is no word yet on whether or not police made an arrest, but the incident caused an outraged online with fans making references to the A$AP Rocky situation where he was involved in a street brawl that has now landed him in jail in Sweden. The difference here is that Future did not retaliate and attacked the attackers.
"Then when they hit back they get ASAP rocky smh," one fan wrote while another added, "If Future had retaliated like ASAP then he would've gotten arrested and thrown in jail without any bail."
Bow Wow Disses Ciara During Performance: 'I Had This B*tch First'
Bow Wow drew some criticism for disrespecting Ciara on stage once again.
Bow Wow has been known more for antics than for his legendary music career as of late, and looks like he's back at the foolery again. A video surfaced on line of Bow Wow, whose real name is Shad Moss, performing on stage and what looks like a nightclub. In the middle of his 2005 hit song "Like You," featuring singer Ciara, Bow stops mid-verse and says "I had this b*tch first, you know that right?," befor continuing the duet.
The comment was made in reference to Bow Wow and Ciara's public relationship that happened over a decade ago when the song was made. Since then, Ciara has dated other celebs like 50 Cent, her baby's father Future, and of course is now married to Seattle Seahawks quarterback Russel Wilson. Ciara and Wilson have a 2-year-old daughter. The moral of the story is – Ciara has moved on from Shad a long time ago.
So it was pretty distasteful for him to mention her as a married woman, but also to call her out of her name. Once the video was posted to The Shaderoom, it got a negative reaction from most commenters including singer Tank and ATL rapper T.I.
"Why though?.. City Boyz down 82,000,000 but that #HotManSummer is still ablaze!," Tank said in the comment section on Instagram. T.I. also commented saying "Damn Cuzz… Just damn!!"
Meanwhile Ciara is unbothered.
Over the weekend the songstress shared a photo of her and her daughter Sienna posing in matching bathing suits. For some reason her ex's, Bow Wow and Future included. Back in January, Future, who shares a son with Ciara, blasted Russel Wilson in an interview promoting his new album "The WIZRD," claiming Wilson did everything Ciara told him to do.
Tyler, the Creator Speak On DJ Khaled Beef Over No. 1 Album
Tyler, the Creator addressed a small beef with DJ Khaled over his number one album, Igor.
Tyler, the Creator says he is proud of what he was able to accomplish with his latest album, Igor. The Odd Future rapper's newest self-produced LP went No. 1 on the Billboard 200 charts in its first week after the May 17 release date. The project outsold DJ Khaled's album, Father of Asahd, that was released the same day, and that sparked a feud between the two rapper's camps.
Tyler recently sat down with Zane Lowe on Beats 1 to talk about Igor's underdog success. The 28-year-old artist said going No. 1 wasn't a goal of his and he was surprised at how well Igor was received.
"When I put this out and it beat first week … and I don't make sh*t to be first week or to be radio, whatever. But for this work of art, and that album cover and these videos and me doing this suit/wig thing beat … and this is no disrespect to Khaled or anything … But this n*gga had every person in the industry. Everyone on that f**king album. Everyone, everyone – Cardi B, 21 Savage, Travis Scott, Post Malone, Beyonce, Jay – everyone who sells billions of records. And the fact that I beat him with this, that isn't parallel to all the popping music right now, was f**king crazy bro."
DJ Khaled was reportedly very unhappy with the second-place slot. When it was announced that Father of Asahd went Number 2, the usually positive and joyous producer and made a very mysterious Instagram post-and-delete seeming to shade Tyler's project, saying he makes album so people can play them and "actually hear it." "It's called great music. It's called albums that you actually hear the songs. Not no mysterious sh*t and you never hear it," he said.
I tried to tell y'all DJ Khaled felt a type of way about losing to Tyler when he posted then deleted this on IG ? pic.twitter.com/MNTjqSuoMt

— Dwayne Ducky (@Pink_Marse) June 6, 2019
Page Six reported Khaled threw a fit inside his label for allegedly miscalculating his album sales. A representative from Khaled's camp told the Fader that the 43-year-old hip-hop mogul was frustrated with Billboard's calculation methods.
Meanwhile, Tyler, the Creator, speaking out for the first time since the Khaled drama, said he was grateful to see his hard work pay off.
"I'm so proud of myself."