Floyd Mayweather's daughter Iyanna Mayweather has confirmed her relationship with NBA YoungBoy.
Urban Islandz previously reported that NBA YoungBoy and Floyd Mayweather's daughter are dating and even spend Valentine's Day together. Iyanna, also known as Yaya, is now confirming that the two are an item while professing her love for the Baton Rouge rapper. "On the perfect day I know I can count on you," she wrote on Instagram while adding, "I love you." Iyanna also posted a photo of herself and YoungBoy going in a car and another pic of the rapper hitting the stage for a performance.
The pair have been dating for a few months now and appears to be inseparable. YoungBoy Never Broke Again has been making his way around the circuit after being linked to several women since breaking onto the scene in 2017, and now he is dating boxing legend Floyd Mayweather's eldest daughter.
Fans are already suggesting to YoungBoy that he better treat her right because of her dad's legendary status in the boxing ring. As of the time of this publication, Floyd Mayweather has not spoken publicly about it, but his daughter is a full adult so there is not much he can do to stop her from dating the young rap star.
Speaking about his dating life, NBA YoungBoy is a father once again after his ex-girlfriend Jania gave birth last week to the couple's baby girl. The two had a rocky relationship in the past with the rap star getting arrested for assaulting her at a hotel and rumors that he physically abused her. YoungBoy will be sure to think twice about having a similar type of relationship with Iyanna Mayweather.
YoungBoy is currently working on a new tape and promises his fans that more details will be coming soon.
Future Gets Trolled On Twitter For Gifting Baby Future Rolex For Birthday
Future is getting trolled on Twitter for gifting his son Baby Future a Rolex watch for his birthday.
Ciara and Future's son, Baby Future, celebrated his 5th birthday this weekend and while he is being surrounded by love and celebration, his filthy rich parents are also showering him with gifts. The Atlanta rapper gifted his son a high priced Rolex watch and Twitter is somehow not in support of that gift. Some folks on social media think that the younger Future needed some toys or perhaps the watch from Ben10.
Nevertheless, judging from his reaction, it appears that he appreciated the gift. Perhaps some folks need to cut Future some slack because DJ Khaled gifted his son Asah Khaled a $100,000 Rolex watch with some icy diamonds in it. At the time Asahd was just a year old, which means he couldn't wear the watch and perhaps not able to for years. The We The Best Music Group chief did not get a fraction of the backlash the Future is getting.
Future ignored all the chatters and hit us with Meek Mill lyrics. "'It was somethin bout that rollie when it first touched my wrist' – Meek," he captioned a photo of Baby Future wearing the watch.
I think people should be mad that Future bought a 5 yr old a Rolex and I think that is what she meant. That watch will depreciate. What Russell gave him is something money can't buy.

— Aisha K. Staggers (@AishaStaggers) May 19, 2019
I hope his other kids got the Rolex watches too.. shame poor Future jnr he just wanted a simple toy https://t.co/DQhIBUSOOJ

— Tshepi (@TsitsiNotha) May 19, 2019
Someone said lil future wanted the watch from ben10 not a rollie?

— dirtybwai (@onemanboiband) May 19, 2019
Y'all really mad at Future for buying his son a Rolex? ????? But y'all ignoring all these other gifts he got! pic.twitter.com/mzcy2ARlml

— Bizness Boi (@BiznessBoi) May 19, 2019
"You bought that boy a Rolex when all he wanted was your TIME" pic.twitter.com/nHQT15gmUQ

— WashedGod ???? (@god_faced) May 19, 2019
People who can't afford a Rolex talking about what Future should or shouldn't buy for his family with the money he earned. pic.twitter.com/ffCWruSFWD

— Beezy. (@Lowkey_Beezy) May 19, 2019
Future got his son a Rolex for his 5th bday, his voice. "Thanks." Like he got a pair of some socks for Christmas.??? He just wanted some toys. -Kidpic.twitter.com/0tlZPAFWIO

— KidDr1ft (@KidDr1ft) May 19, 2019
Kanye West and Kim Kardashian Shares More Photo Of Baby Psalm West
Kanye West and Kim Kardashian are once again getting trolled for naming their new baby Psalm West.
Kanye and Kim didn't just revealed the name of their new baby bow, they also shared this adorable photo. "Beautiful Mother's Day. With the arrival of our fourth child. We are blessed beyond measure. We have everything we need," Kanye wrote to Kim in a text message. She then took a screenshot and posted it on her Twitter page.
Kanye West and Kim Kardashian welcomed the newest addition to their family via surrogate on May 9th. Psalm came into the world weighing 6 lbs. and 9 oz. "He's also Chicago's twin lol I'm sure he will change a lot but now he looks just like her," Kim wrote on Twitter.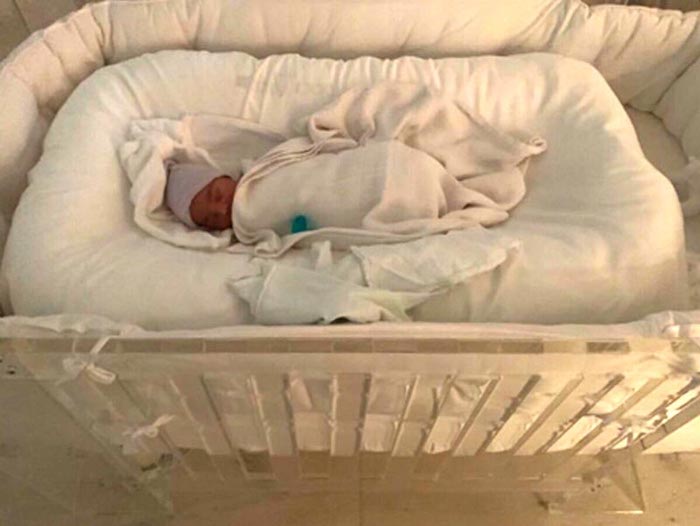 The baby's name, Psalm, appears to be taken from Kanye West's new spiritual journey. The Chicago rapper has been hosting his week Sunday Service which he also brought to Coachella on Easter Sunday.
He's here and he's perfect!

— Kim Kardashian West (@KimKardashian) May 10, 2019
He's also Chicago's twin lol I'm sure he will change a lot but now he looks just like her ?

— Kim Kardashian West (@KimKardashian) May 10, 2019
Foota Hype Diss Shenseea Over Viral Photos Konshens Clap Back
Foota Hype fired off some scathing remarks against Shenseea after she posted a photo of herself and another woman in bed.
Konshens is now firing back at Foota Hype over his blatant hypocrisy. "A this dancehall gone to a this she pick disappointed is not even the word," Foota wrote. In a lengthy post, Konshens blast the sound system selector.
"Dis jus ironic @footahypemusic from mi see dah picture deh post mi a wait fi see u attack," the Subkonshus deejay wrote. "But look how God and Bible work fi unnu now. Pan her post weh yuh no like u wrath an say "GOD AGGO FUCK UP DI WHOLE A UNNU",u hurt deep cah u God fearing and that is not Godly etc. but mi scroll to the very next ting pan mi timeline a woman a seh man fi have side chick (Your God and Your bible say that is ADULTERY). But look what your comment was. 'GOD IS TALKING THRU MONIQUE'"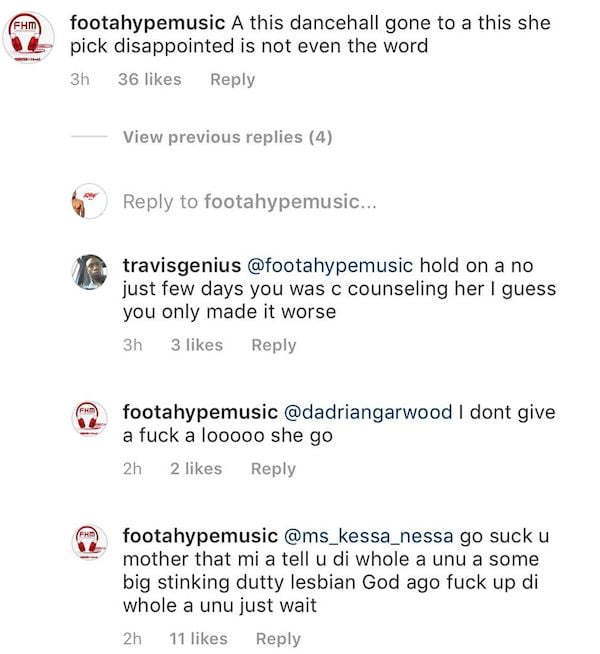 Foota Hype also responded to some of Shenseea fans who pushed back against his attack on the female dancehall star. "Go s**k u mother that me a tell u di whole a unu a some big stinking dutty lesbian God ago f*** up di whole a unu just wait," Foota commented.