21 Savage Had Loaded Gun In Car At Time Of ICE Arrest
21 Savage had a loaded gun in the car when he was arrested by ICE.
The Atlanta rapper is currently in the custody of U.S. Immigration and Customs Enforcement (ICE) awaiting his fate. More details are coming out about the day he was arrested in Atlanta. TMZ reported that cops found a loaded Glock in the Dodge Challenger that 21 Savage was traveling. According to the police report, 21 was driving recklessly and almost slammed into a fully-marked police car, and cops are saying that's the reason why he was pulled over.
Cops noted in their report that the Dodge drove across the sidewalk in an attempt to go on another street. ATF agents were also on the scene when cops pulled over the red Dodge Challenger. The rapper was told to throw the keys outside the window, and 21 Savage complied. The report also alleges that he threw a bottle containing an unknown substance out the window.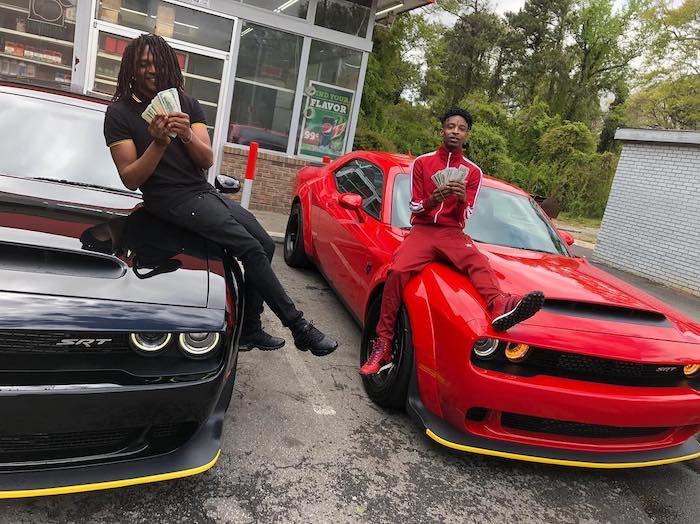 Police placed 21 Savage in handcuff as soon as he exited the vehicle, and from there, he was turned over to ICE officials. The Glock was found in the gloves compartment of the car, but 21's attorney, Brian Steel, says that the weapon does not belong to him. He did not say who the gun belongs to, but cops are continuing their investigation to ascertain who is the owner.
The site reported that quite a few different law enforcement departments were involved in the arrest, but ICE was not listed on the ATF report. The target of the operation was Young Nudy, who cops say was traveling in another car alongside 21 Savage.
Popcaan Trolls Meek Mill On Instagram Over This Hilarious Post
Popcaan is trolling his new friend Meek Mill on Instagram.
The Unruly Boss and the Philly rapper struck up a close friendship ever since he visited Jamaica in January for a one week vacation. Apparently, Meek Mill is not aware of some of the labels placed on certain words and phrases in Jamaica culture. For instance, when a Jamaican call you a fish they are calling you gay.
The Championships rapper recently posted a photo on his Instagram page with the Caption, "I graduated to big fish." He added a fish emoji to cap things off. Popcaan immediately spots the post and comments his usual trolling line "Yyyyy trouble" along with two crying laughing emojis.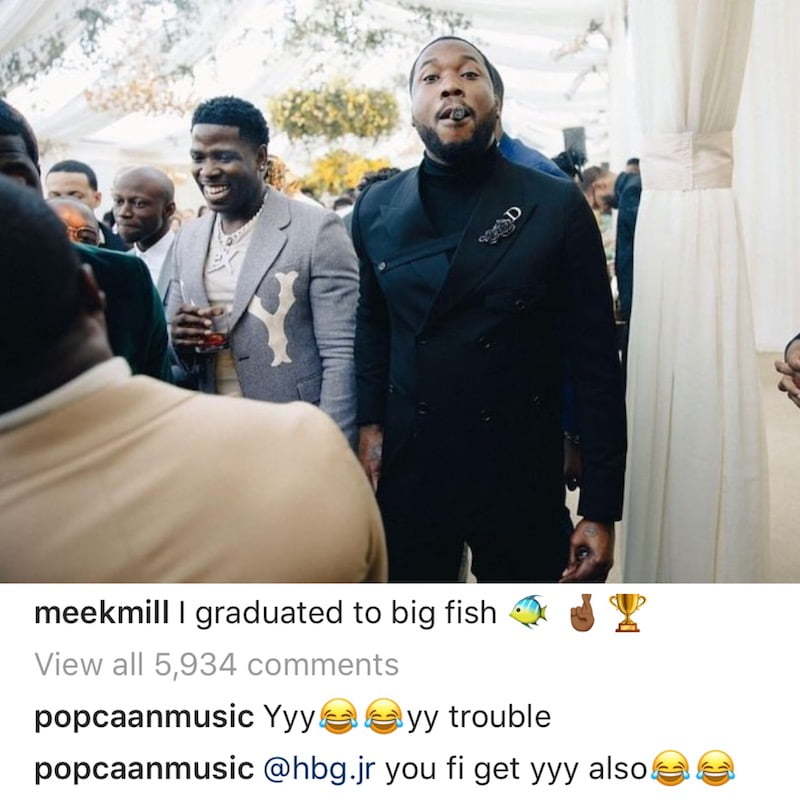 Sources told Urban Islandz that Meek Mill has a few Jamaicans in his camp who educate him on why Popcaan was trolling him while assuring him it's all for fun. "He now knows that's how us yardy (Jamaicans) roll, we always make fun of each other and he likes that vibe also," sources said.
Meek had a blast in Jamaica during his visit last month. Popcaan gave the MMG rapper a tour of the community he grew up in and also took him on the old Gaza block. The two artists spoke about collaborating on some new music in the future.
SAINt JHN Signs Management Deal With Roc-A-Fella Co-Founder Biggs Burke
SAINt JHN signs a new management deal with Roc-A-Fella co-founder Kareem 'Biggs' Burke.
The Guyanese rapper/singer has been on the rise since last year, and now he is poised to do even bigger things with an alignment with a veteran in the music business. Biggs Burke, who is a co-founder of Roc-A-Fella records, announced his grand return to the music business with his new venture called Success Management Company. His first signee is Hitco artist SAINt JHN.
According to Billboard, SAINt JHN started his music career as a songwriter penning songs for the likes of Usher, dvsn, and Jidenna. While writing songs for other artists, he was working behind the scenes to craft his own mixtape. Last year he released his solo debut effort, Collection One, which has been doing very well. Since dropping the project, the Guyanese rapper clocks in 150 million streams across all major streaming platforms.
Burke has been missing from the music scene for almost a decade and a half after selling his shares in Roc-A-Fella thirteen years ago and left the company. He co-founded the successful label with Damon "Dame" Dash and Shawn "JAY-Z" Carter. He executive produced every album released by the label which went on to sell more than 60 million copies.
As recent as 2017, Burke did an interview on The Breakfast Club where he opened up about his wish to stay out of the music business. But after having an impromptu music listening session with SAINt JHN, he appears to have a change of heart.
"The night [Roc Nation co-founder Tyran Smith], played a preview of SAINt JHN's new abum, I drove home listening to Collection One and had an immediate sonic connection to his music," Burke said.
SAINt JHN, whose real name is Carlos St. John, says he spent most of his life between Guyana and Brooklyn where he started crafted his music career. "I started making records for myself, I put out some records, saw very very minimal success and then opportunity came, and I started songwriting," he said.
50 Cent Suing New York City After NYPD Commanding Officer Threatens To Kill Him
50 Cent and his team are shocked, and dismay after an NYPD Commanding officer threatened his life.
The G-Unit rapper unleashed a tirade on Instagram on Tuesday after new reports claimed that commanding officer Emmanuel Gonzalez who told his subordinates to shoot the rapper on sight. The news reportedly sends chills and shock waves throughout 50 Cent's camp, and sources are now saying that the rap mogul not only fears for his safety but also the safety of his family members including his son.
Multiple reports confirmed that Gonzalez made the remarks to his fellow officers just before attending a charity boxing event in the Bronx. 50 Cent was rumored to be in attendance at the charity event, and those officers became fearful that the rapper could be killed.
In a post on his Instagram page, 50 Cent says he is considering suing the city of New York because he is afraid for his life. "I'm afraid for my life, I haven't been able to sleep since I heard of this," he wrote. "The cops never notified me of the threat. I'm closing all my business in New York. I may have to sue the city."
50 Cent calls Emanuel Gonzalez a gangster with a badge and a gun. In his lengthy rant on Instagram, the rapper/businessman says he is considering all legal avenues to get justice and possibly have the commanding officer removed from his post.
A rep for 50, whose real name is Curtis Jackson, told TMZ that the rapper takes the threats very seriously. "Mr. Jackson takes this threat very seriously and is consulting with his legal counsel regarding his options going forward," Fifty's rep said. "He is concerned that he was not previously advised of this threat by the NYPD and even more concerned that Gonzalez continues to carry a badge and a gun."