Sean Paul Explains Why He Turned Down Collab With Cardi B
A Sean Paul and Cardi B collaboration would've been dope.
Some of Sean Paul's biggest songs are collaborations with females like Beyonce, Keyshia Cole, and Sia. Now we're learning that we almost had a SP and Cardi B collaboration, but the dancehall deejay turned it down. SP is one of the most legendary names in dancehall history and often seen internationally as the king of the genre. He is perhaps the most successful artist commercially with several Billboard hits under his belt including his recent number one single "Cheap Thrills" with Sia.
Sean Paul told ET in a recent interview that the song just wasn't the right production because it was taken from an old unreleased single. "There was a production team that I worked with years ago that I left a demo with," SP said.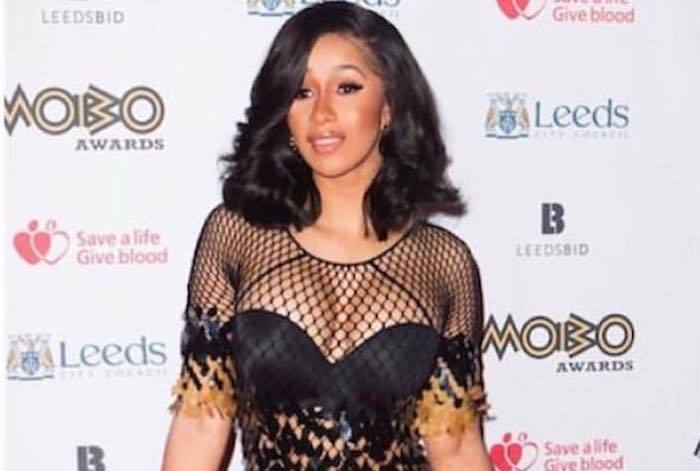 The deejay continues, "Someone chopped up the song and put Cardi in it. I didn't want it to be that someone put part of her song from some other thing with part of my song from some other thing, so I stopped it from happening. So, I sent word to her saying that I want to work in the studio with her."
The dancehall legend says he remained open to go into the studio with Cardi B and lay down a proper song with her. Dancehall fans are rooting for that production to take place because it will be another classic under the deejay's belt. Cardi is the hottest female rapper in the game right now, and Sean Paul remains at the top of his game after making hits for the past two decades.
Buju Banton Says He Is Now Ready To Speak After Weeks Of Silence
Buju Banton is now ready to speak to the masses after weeks of silence.
Since his release from prison on December 7th last year, Buju Banton has kept himself out of the media and the public space for the most part. We haven't heard much from the Grammy-winning reggae singer except for when he is promoting his upcoming concert at the National Stadium in Kingston, set for March 16. The Gargamel says his silence is deliberate because he wants to observe before he speaks.
"Eighty-six months of chains is finally over," Buju said in a video clip posted on his Instagram page. "I've deliberately kept my silence so I could observe with my own eyes what is going on, not only locally, but globally. How are you? I am ready for you, are you ready for me? We have nuff [a lot of] things to talk [a]bout.
Buju Banton says he is ignorant to Instagram, but he will learn. "Me realize say a pon this everybody a talk and a run off them mouth," he continues. "I readily admit I am ignorant to it but am gonna get it, you will see. But until then see you soon, I hope to see you, because I need to see you, we got so much things to talk about."
Buju Banton returned to Jamaica the same day that he was released from a federal prison in Georgia. The reggae legend is gearing up to hit the road for his first major tour which will see him and his band performing across the Caribbean and Europe. A rep for the singer told Urban Islandz that more "Long Walk To Freedom Tour" dates would be announced.
Before going overseas, Buju Banton will be performing for 30K plus fans on his home ground. His show at the National Stadium will mark the beginning of his "Long Walk To Freedom Tour."
Popcaan Trolls Meek Mill On Instagram Over This Hilarious Post
Popcaan is trolling his new friend Meek Mill on Instagram.
The Unruly Boss and the Philly rapper struck up a close friendship ever since he visited Jamaica in January for a one week vacation. Apparently, Meek Mill is not aware of some of the labels placed on certain words and phrases in Jamaica culture. For instance, when a Jamaican call you a fish they are calling you gay.
The Championships rapper recently posted a photo on his Instagram page with the Caption, "I graduated to big fish." He added a fish emoji to cap things off. Popcaan immediately spots the post and comments his usual trolling line "Yyyyy trouble" along with two crying laughing emojis.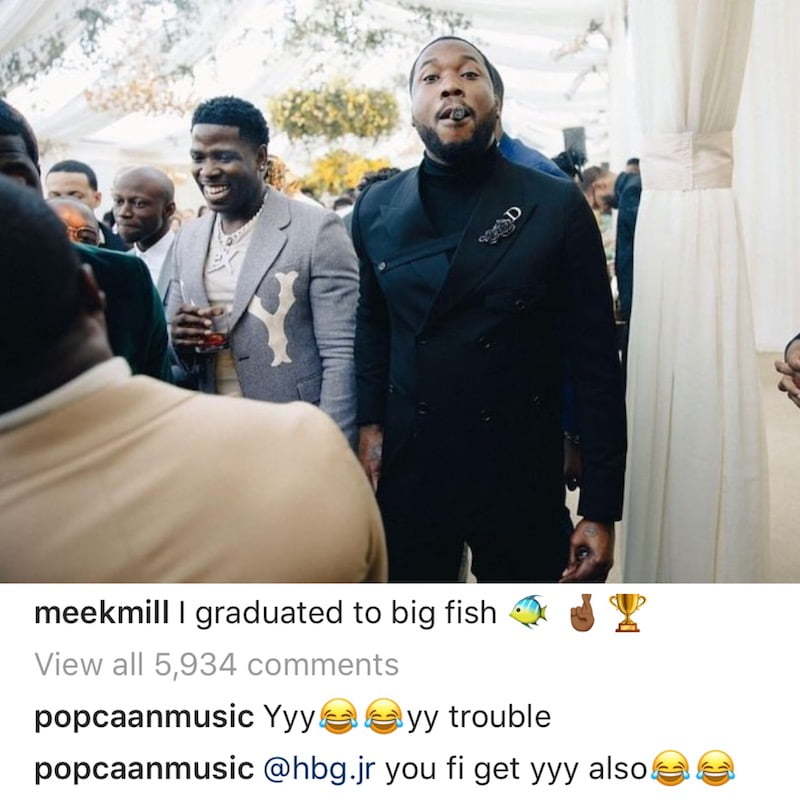 Sources told Urban Islandz that Meek Mill has a few Jamaicans in his camp who educate him on why Popcaan was trolling him while assuring him it's all for fun. "He now knows that's how us yardy (Jamaicans) roll, we always make fun of each other and he likes that vibe also," sources said.
Meek had a blast in Jamaica during his visit last month. Popcaan gave the MMG rapper a tour of the community he grew up in and also took him on the old Gaza block. The two artists spoke about collaborating on some new music in the future.
SAINt JHN Signs Management Deal With Roc-A-Fella Co-Founder Biggs Burke
SAINt JHN signs a new management deal with Roc-A-Fella co-founder Kareem 'Biggs' Burke.
The Guyanese rapper/singer has been on the rise since last year, and now he is poised to do even bigger things with an alignment with a veteran in the music business. Biggs Burke, who is a co-founder of Roc-A-Fella records, announced his grand return to the music business with his new venture called Success Management Company. His first signee is Hitco artist SAINt JHN.
According to Billboard, SAINt JHN started his music career as a songwriter penning songs for the likes of Usher, dvsn, and Jidenna. While writing songs for other artists, he was working behind the scenes to craft his own mixtape. Last year he released his solo debut effort, Collection One, which has been doing very well. Since dropping the project, the Guyanese rapper clocks in 150 million streams across all major streaming platforms.
Burke has been missing from the music scene for almost a decade and a half after selling his shares in Roc-A-Fella thirteen years ago and left the company. He co-founded the successful label with Damon "Dame" Dash and Shawn "JAY-Z" Carter. He executive produced every album released by the label which went on to sell more than 60 million copies.
As recent as 2017, Burke did an interview on The Breakfast Club where he opened up about his wish to stay out of the music business. But after having an impromptu music listening session with SAINt JHN, he appears to have a change of heart.
"The night [Roc Nation co-founder Tyran Smith], played a preview of SAINt JHN's new abum, I drove home listening to Collection One and had an immediate sonic connection to his music," Burke said.
SAINt JHN, whose real name is Carlos St. John, says he spent most of his life between Guyana and Brooklyn where he started crafted his music career. "I started making records for myself, I put out some records, saw very very minimal success and then opportunity came, and I started songwriting," he said.